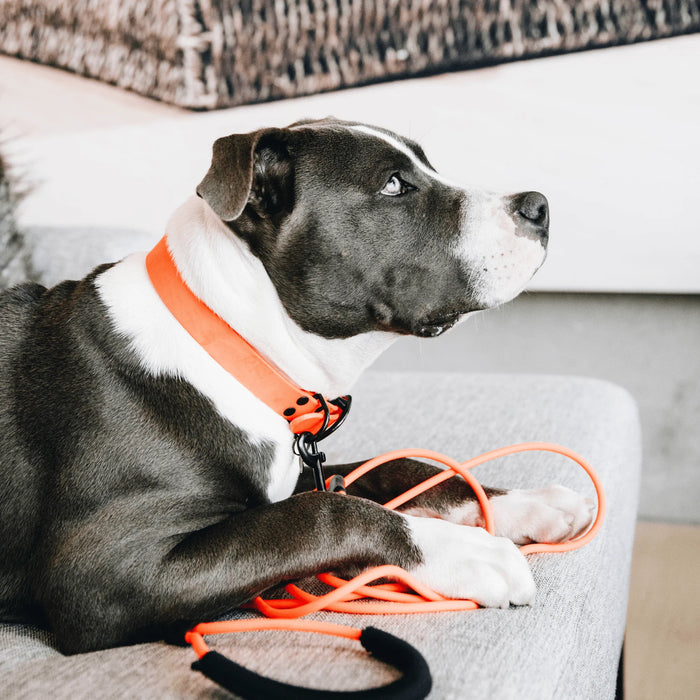 Soft Rubber Dog Collar
Original price
€29,99
-
Original price
€29,99
Delivery time: 1-3 working days
Hoe kies je de juiste maat?
Meet de omtrek van je hond zijn nek door een flexibel meetlint onderaan zijn nek te plaatsen. Laat ruimte voor twee vingers tussen het meetlint en de nek. Kies vervolgens de halsbandmaat op basis van deze meting. Raadpleeg eventueel de instructievideo hieronder.
Description
This soft rubber collar is very practical and easy to use during walking or other outdoor activities. The collar is comfortable to wear because it's very gentle to the dog's coat.

The collar is made of soft rubber, a material that is known for its strength and durability. You don't have to worry about your dog playing in dirt as the collar is easy to clean, waterproof and odor-free.

The collar is suitable for all kinds of dogs. Choose the neon orange color for more
visibility or all the black color for simplicity. Whatever the choice, this collar is very
stylish for everyday use.
Collar width:
XS & S - 2cm
M & M/L - 2.5cm
L & XL - 3cm
Washing
To clean the collar, you can easily remove the dirt with a wet cloth. You can also machine wash the collar at 30 degrees, please use a laundry bag to protect the collar.